Whether you restore cars and motorcycles as a business or as a hobby we can help you.
Frames & Auto Parts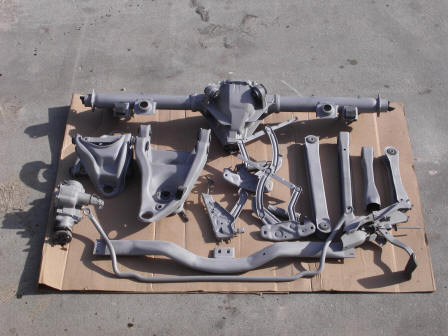 Our abrasive blasting process removes rust, paint, scale and contaminants from all the car parts including the vehicle's chassis leaving you with bare clean steel ready to paint. You can take them as is, or we can prime them for you with a rust-inhibitive primer.
The blast cleaned chassis can be primed with a high build epoxy primer and finished with a high performance polyurethane that will make it look new.
Plastic Media Stripping
The perfect solution for paint removal for classic car restorers, hot-rodders, DIYers, and professional auto body shops, plastic media blasting eliminates the messiest and most labor intensive job in your shop!
The materials we use are totally inert and non-reactive, so unlike chemical dripping or stripping, there is no risk of chemical residue being left on the surface to strip away your new paint job. It is the best way to remove fillers, primer and top-coats from auto bodies, auto parts, plastic molded parts, etc.
Save time by letting us do the stripping so you can spend more time painting… and we do it better and faster than anyone else!
The Advantages of Plastic Media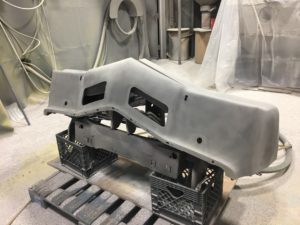 Does not etch, ripple or mar surface
Fast and efficient process
Gentle: strips paint from fiberglass (i.e Corvettes), aluminum, composites and thin sheet metal, without pitting or distortion
No coating failure from surface preparation
Improved adhesion and repaint quality
No hazardous exposure for your employees
click here for more information about our plastic media blasting services